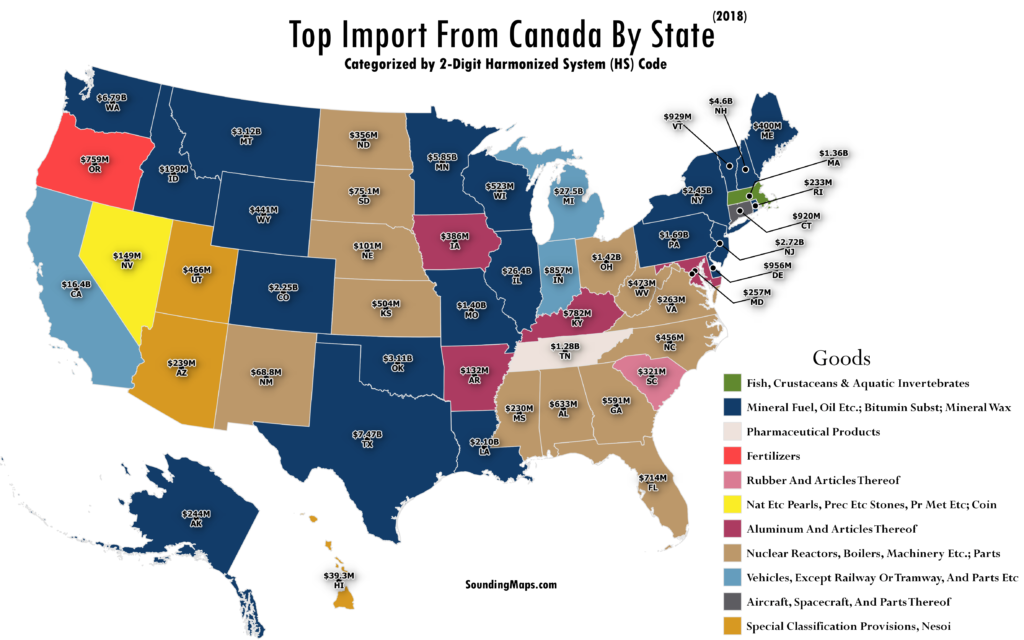 This map visualizes key US Imports from Canada categorized by 2-Digit HS codes. HS codes is an international nomenclature for the classification of products. The goods shown are the top import to each state from Canada.
US imports from Canada totaled $318.8 billion in 2018 resulting in an 11% increase compared to 2017. US imports from Canada have steadily increased over the span of trading history between the two nations.
Mineral Fuel, Oil, and Machinery are the most common imports for states. Among these states are:
Washington
Montana
Wyoming
Colorado
Idaho
Oklahoma
Texas
Missouri
Louisiana
Minnesota
Illinois
Pennsylvania
New York
Vermont
New Hampshire
Maine
Delaware
Alaska
Unique goods such as Fertilizers for Oregon, Fish to Rhode Island, Pharmaceutical Products to Tennessee, and Aircraft parts to Connecticut stand out.
This import data can be found on USA Trade Census.
source: https://usatrade.census.gov/