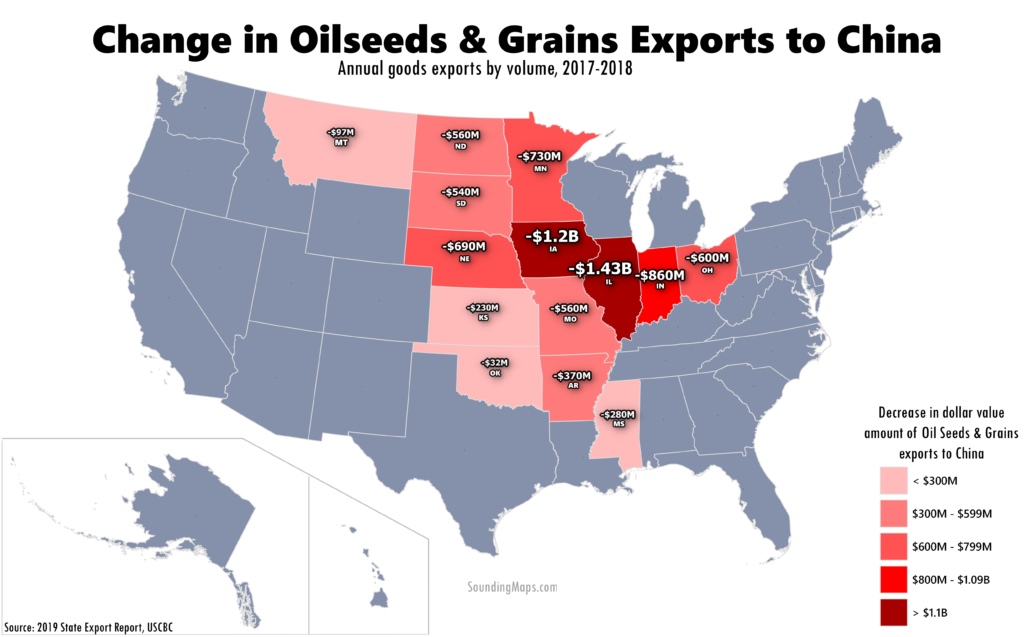 US China trade grain exports plunged between 2017 and 2018. China grain traders pulled back substantially on American Oilseeds & Grains between 2017 and 2018. The fourteen states colored above represent the top exporters of the product.
Despite the decline, goods exports to China still outpaced export growth to the rest of the world over the last decade. US exports of goods to China increased 73 percent over the last decade, while exports to the rest of the world grew only 57 percent.
Exports to China benefit nearly all US states and industries. China was a top-five goods export destination for 45 states in 2020. The top US goods exports to China are oilseeds and grains, semiconductors and their componentry, oil and gas, and motor vehicles. Many states also generate substantial economic value from service exports like travel, education, and financial services
This map shows Iowa and Illinois experiencing the biggest drop in grain exports to China.
In 2017 the combined fourteen states exported $11,294,000,000 of Oilseeds & Grains compared to only $3,118,000,000.00 in 2018. Illinois was hit the hardest. This is especially damaging considering it coincides with Chicago's ongoing pension crisis.
Source: https://www.uschina.org/reports/2019-state-export-report#1