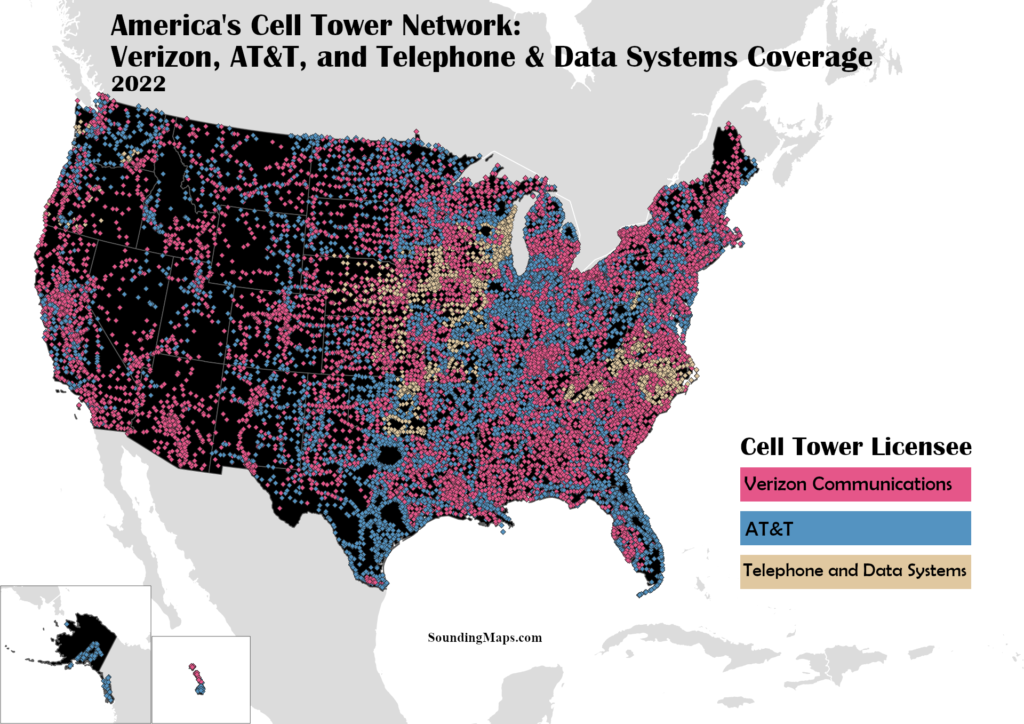 The cell phone has become essential in our daily lives, providing communication, business, and emergency services.
With the increase in mobile network usage, the demand for network coverage has increased, and companies like Verizon, AT&T, and Telephone & Data Systems have expanded their cell tower networks to meet this demand.
In this article, we will explore the coverage of these companies in the USA and understand the state of mobile network coverage across the country. Individual cell tower maps for each company are shown below.
Methodology of the Map
To understand the coverage of Verizon, AT&T, and Telephone & Data Systems cell towers across the USA, we created a cell tower map that visualizes the location and distribution of the largest operators' towers. We sourced our data from the Homeland Infrastructure Foundation and used QGIS to visualize the data on a map. We color-coded the map to show the coverage areas of each company.
Each individual tower is mapped to its respective licensee. Many towers are owned by private and public cell tower holding companies. These companies lease their towers to large telecommunication companies like Verizon, ATT&T, and Telephone and Data Systems.
There are, of course, many independent operators with coverage in smaller locations throughout the country. These were excluded to highlight the largest operators of cell towers. Even companies like T-Mobile need more cell tower leases to be included on the map.
AT&T Cell Tower Map and Coverage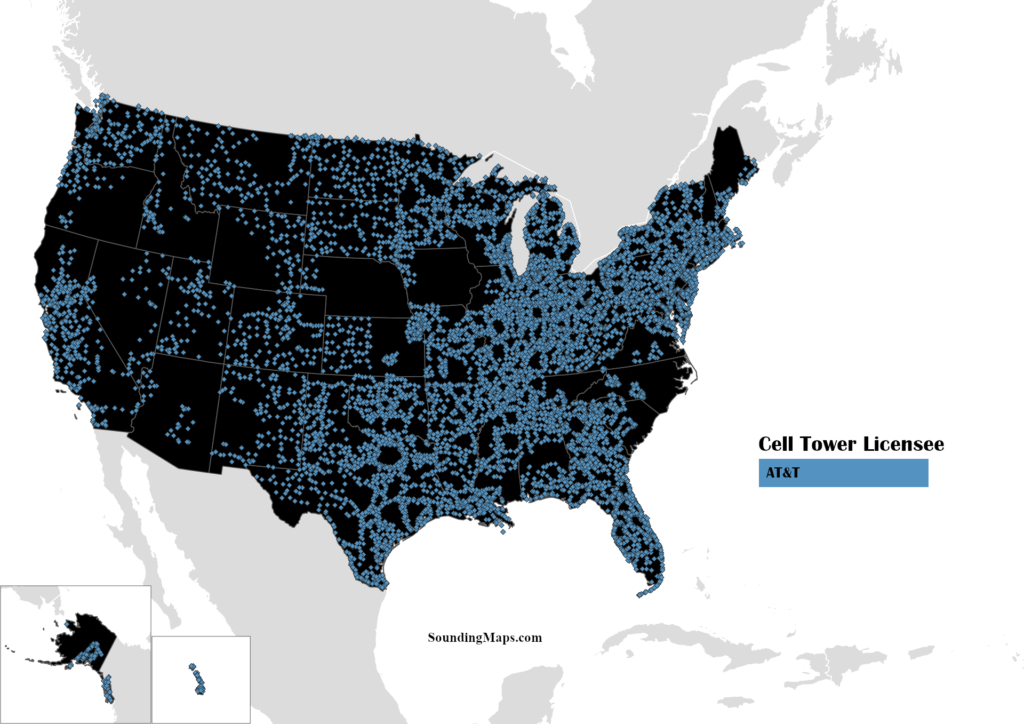 Over the years, several mergers and acquisitions have reshaped AT&T's business. In 2004, AT&T acquired New Cingular Wireless or Cingular Wireless, a joint venture between SBC Communications and BellSouth. This acquisition played a crucial role in helping AT&T expand its network coverage and improve its technology.
Following the acquisition of Cingular Wireless, AT&T gained full ownership of the company, further expanding its network and subscriber base. As a result, AT&T became one of the largest mobile network providers in the United States, offering services to millions of subscribers nationwide.
Verizon Cell Tower Map and Coverage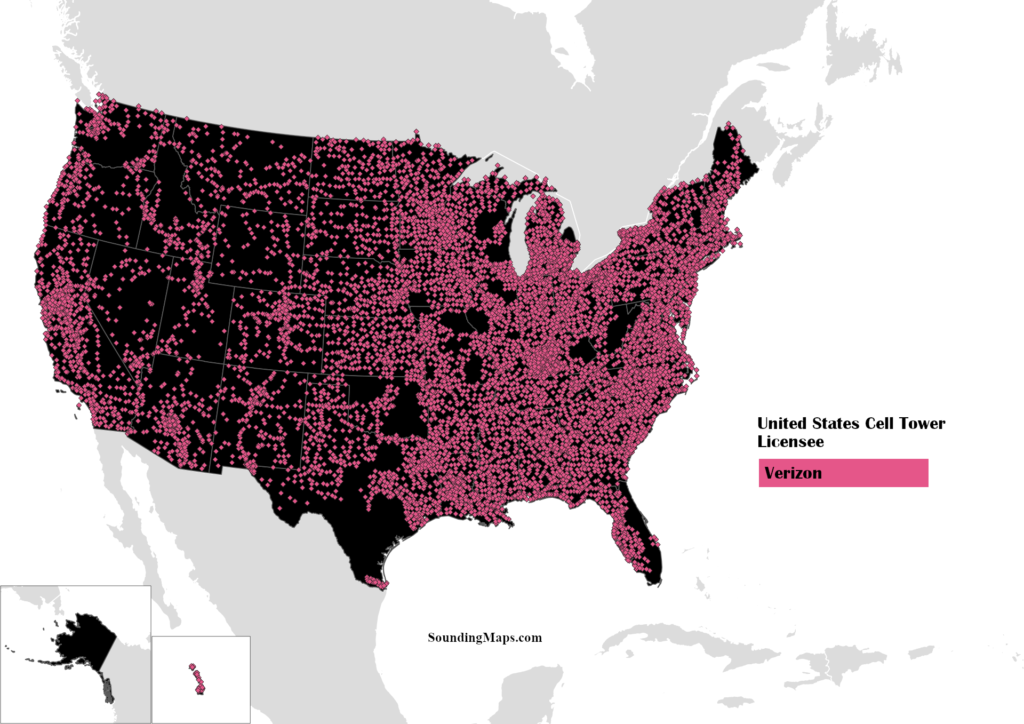 Verizon has made significant strides in expanding its mobile network through mergers and acquisitions. Notably, they acquired Cellco in a joint venture with Vodafone, which provided Verizon with full ownership of the largest wireless network in the USA.
Moreover, Verizon continued its acquisitions with Alltel in 2009, which added over 13 million subscribers to its network and expanded its coverage across several states.
Another vital acquisition for Verizon was Rural Cellular, which helped expand network coverage in rural areas with previously underserved mobile networks. Finally, in 2000, Verizon acquired GTE, granting them access to GTE's broadband network and improving their data services. These acquisitions allowed Verizon to grow its network and subscriber base, providing high-quality mobile services to millions of users nationwide.
Telephone and Data System Cell Tower Map and Coverage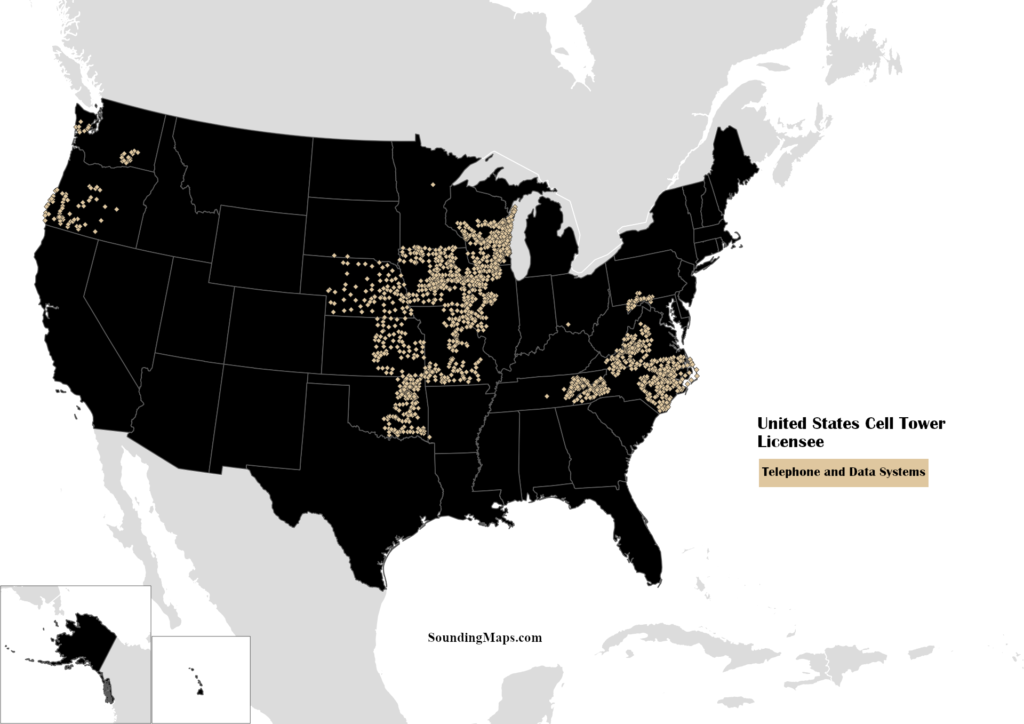 Telephone and Data Systems (TDS) is a telecommunications company that operates primarily in the Midwest, the Pacific Northwest, and the Eastern regions of the United States.
One of the unique aspects of TDS's network is its partnership with US Cellular. TDS operates its network under the US Cellular brand in certain regions, and the two companies share network infrastructure in some areas. This partnership allows both TDS and US Cellular to offer broader network coverage and improved services to their subscribers.
Sources: