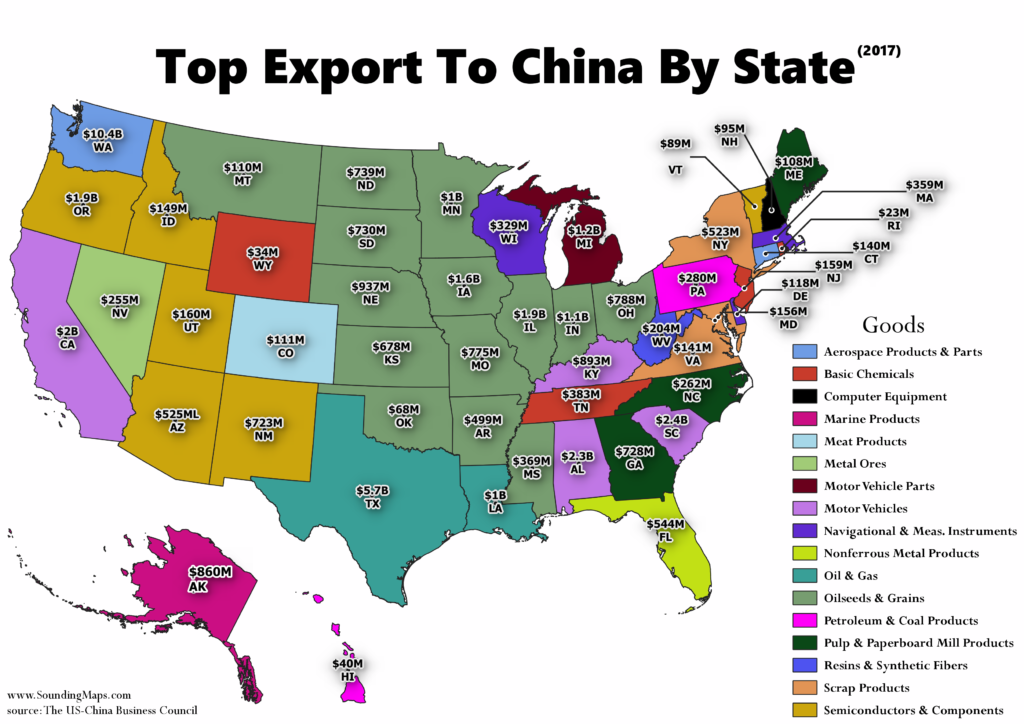 United States goods exports to China continue to outpace export growth to the rest of the world. In 2017, the United States exported more goods to China than ever before—more than $127 billion. The exports to China have grown by 86 percent over the last decade, while exports to the rest of the world grew by only 21 percent.
In 2017, the top US goods included aerospace products and parts, oil seeds and grains, and motor vehicles.
Some interesting standouts to mentions:
New Hampshire – Computer Equipment
Massachusetts – Navigational & Measurement Instruments
Connecticut – Aerospace products
Wisconsin – Resins & Synthetic Fibers
Washington is known for it's large aerospace industry. Boeing and Blue Origin to be a few. There is no surprise that Washington exports a large amount of aerospace goods to China.
Nevada's metal ores exports contain a large amount of gold. You can read more about it here.
The distinguished car manufacturing states exporting to China are California, Alabama, South Carolina, and Kentucky.
China was a top market for US goods exports in 2017, with only NAFTA partners Canada and Mexico buying more goods last year. It was also the third-largest market for US services exports, following the United Kingdom and Canada.
sources: Estimated by The Trade Partnership (Washington, DC)., The US-China Business Council