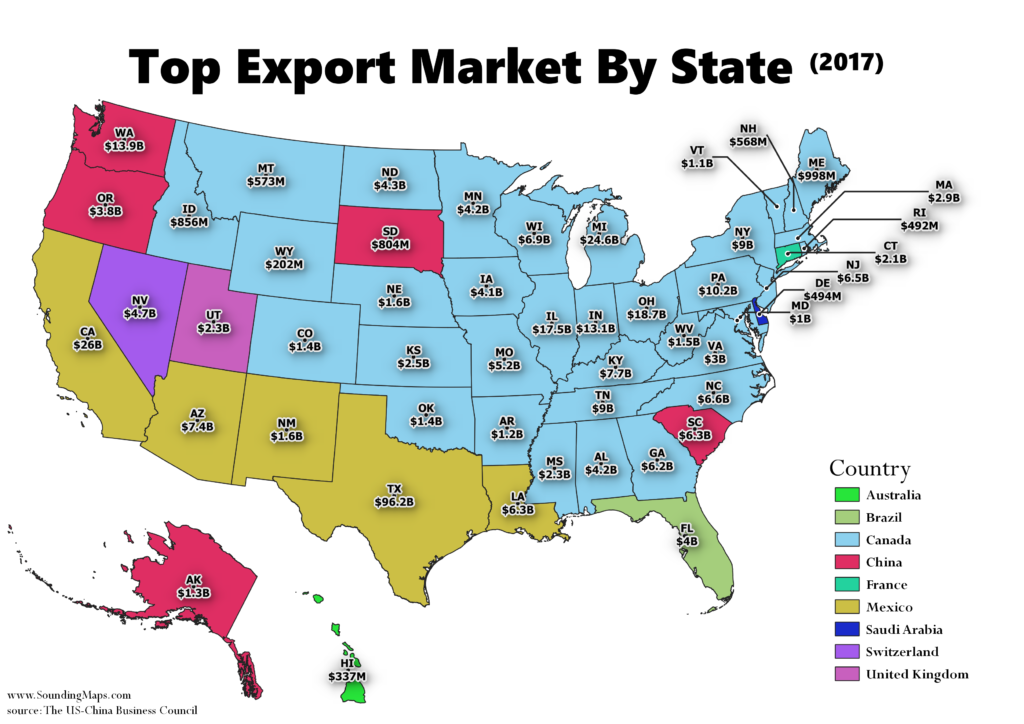 This map shows the United States biggest export markets for each state. In 2017, Canada was the United States biggest export market for 33 states, and exports to Canada across the country totaled $282.3 billion. Both China and Mexico are the top export market for 5 states. The top exports to Canada from the United States were machinery and vehicles.
Of the United States Biggest Export Markets, Mexico was the United States 2nd largest. Machinery, vehicles and parts also dominated a majority of the exports from the United States to Mexico.
The top US goods export to China were oilseeds and grains, semiconductors and their componentry, oil and gas, and motor vehicles.
Brazil captured the biggest export market of only one state: Florida. Brazil is Florida's largest export market. Florida merchandise exports to Brazil were valued at $4 billion in 2019. Floridians have relied on Brazil as a top export partner for many years.
One states export stands out. Interestingly, Nevada's major export was gold which totaled $6.285 billion. $4.7 billion of which went to Switzerland.
The largest single trading partner for a state was Texas and Mexico ($96.2 billion Oil & Gas). The remaining south eastern border states unsurprisingly are the largest export partner for Mexico amongst the states.
sources: Estimated by The Trade Partnership (Washington, DC)., The US-China Business Council