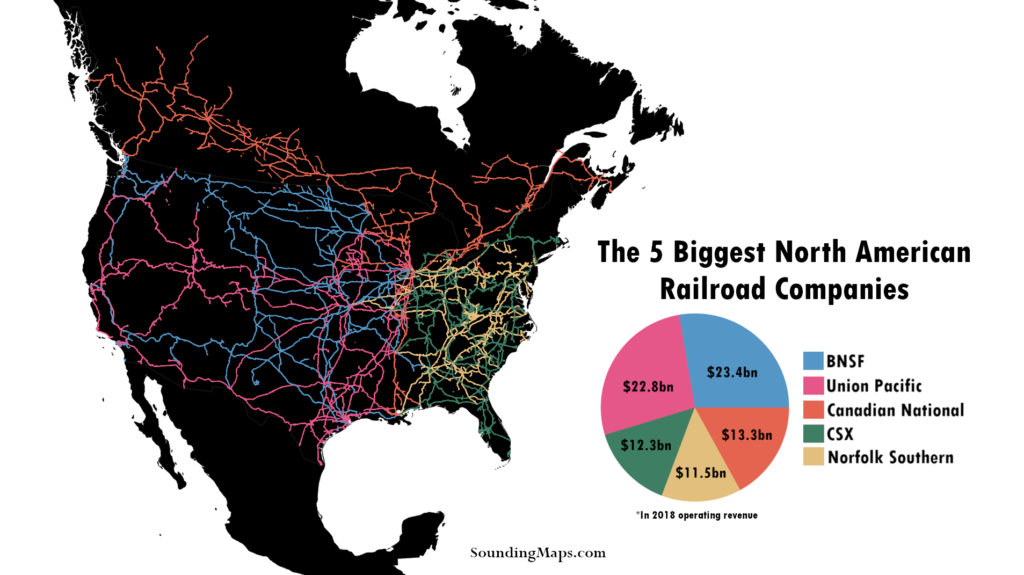 This is the 2018 North American biggest railroads map categorized by the largest operating revenue. Union pacific is mapped in pink competing throughout the western United States against BNSF which is mapped in blue. Over in the east CSX mapped in green competes with Norfolk Southern.
The US and Canadian railroad industry is dominated by the seven "Class I" major railroads, most of them formed as a result of a wave of consolidation in the 1980s and 1990s. Rail data was pulled from The Rail Network. Considering all of the mergers and acquisitions, the history of the biggest railroads is extensive to say the least:
BNSF
BNSF's history dates back 170 years to 1849, when the 12-mile Aurora Branch Railroad was founded in Illinois. With a rail network of 52,500 route miles in 28 states and three Canadian provinces, BNSF is one of North America's leading freight transportation companies. On Feb. 12, BNSF became a subsidiary of Berkshire Hathaway, Inc.
Union Pacific
Union Pacific extended the American railway system to the Pacific coast. It was financed largely in part by federal loans and land grants. With its acquisition of Southern Pacific rail in 1996, Union Pacific became the largest railroad in Northern America. It relies heavily on commodities such as coal, automobiles, foods, forest and agricultural products, and chemicals and is one of the largest intermodal shippers in the country.
Canadian National
Canadian Nationals overall rail network covers 19,500 route miles. The Canadian National Railways (CNR) was incorporated on June 6, 1919, comprising several railways that had become bankrupt and fallen into federal government hands, along with some railways already owned by the government. On November 17, 1995, the federal government privatized CN.
CSX
Founded in 1827, CSX serves nearly two-thirds of the American population. The CSX story begins with America's first common carrier, The Baltimore and Ohio railroad (B&O). When the B&O operation began in 1830, its trains were pulled by horses. Several years later, the term "horsepower" was created to convince potential buyers of the value of the steam engine by comparing it to the work done by horses.
Norfolk Southern
Norfolk Southern has served the freight transportation for nearly two centuries. The company operated 19,420 miles. The primary business function of Norfolk Southern Corporation is the rail transportation of raw materials, intermediate products, and finished goods across the Southeast, East, and Midwest United States. Norfolk Southern is a major transporter of domestic and export coal.
Sources:
https://data-usdot.opendata.arcgis.com/datasets/north-american-rail-lines
https://www.bnsf.com/about-bnsf/financial-information/
http://www.nscorp.com/content/nscorp/en/news/norfolk-southern-reports-fourth-quarter-and-full-year-2018-resul.html
https://www.macrotrends.net/stocks/charts/CSX/csx/revenue
https://www.marketwatch.com/investing/stock/cni/financials
https://www.up.com/media/releases/180124-4q-2018-earnings.htm